Dublin Bay South byelection candidate James Geoghegan organised an event for politicians expelled from Fine Gael for their opposition to abortion legislation.
Geoghegan also wrote a number of policy papers for the group of expelled politicians.  
Attended by more than 1,000 people and held by the Reform Alliance, the event featured a standing ovation for Lucinda Creighton after she mentioned the group's rejection of an act that would allow for abortion in limited circumstances.
A precursor to Renua, the Reform Alliance was primarily a coalition of TDs and senators who'd lost the Fine Gael party whip for opposing the Protection of Life During Pregnancy Act 2013. The act was written to legislate for abortion in cases where mothers' lives were at risk.
Among the alliance's early members were TDs Lucinda Creighton, Billy Timmins, Peter Matthews and Terence Flanagan, as well as senators Fidelma Healy Eames and Paul Bradford.
The alliance held a 25 January, 2014 event in Dublin's RDS titled The Reform Conference. Geoghegan was one of the event organisers, according to an online ticketing page for the conference, which gave his Oireachtas email address as the event's main point of contact.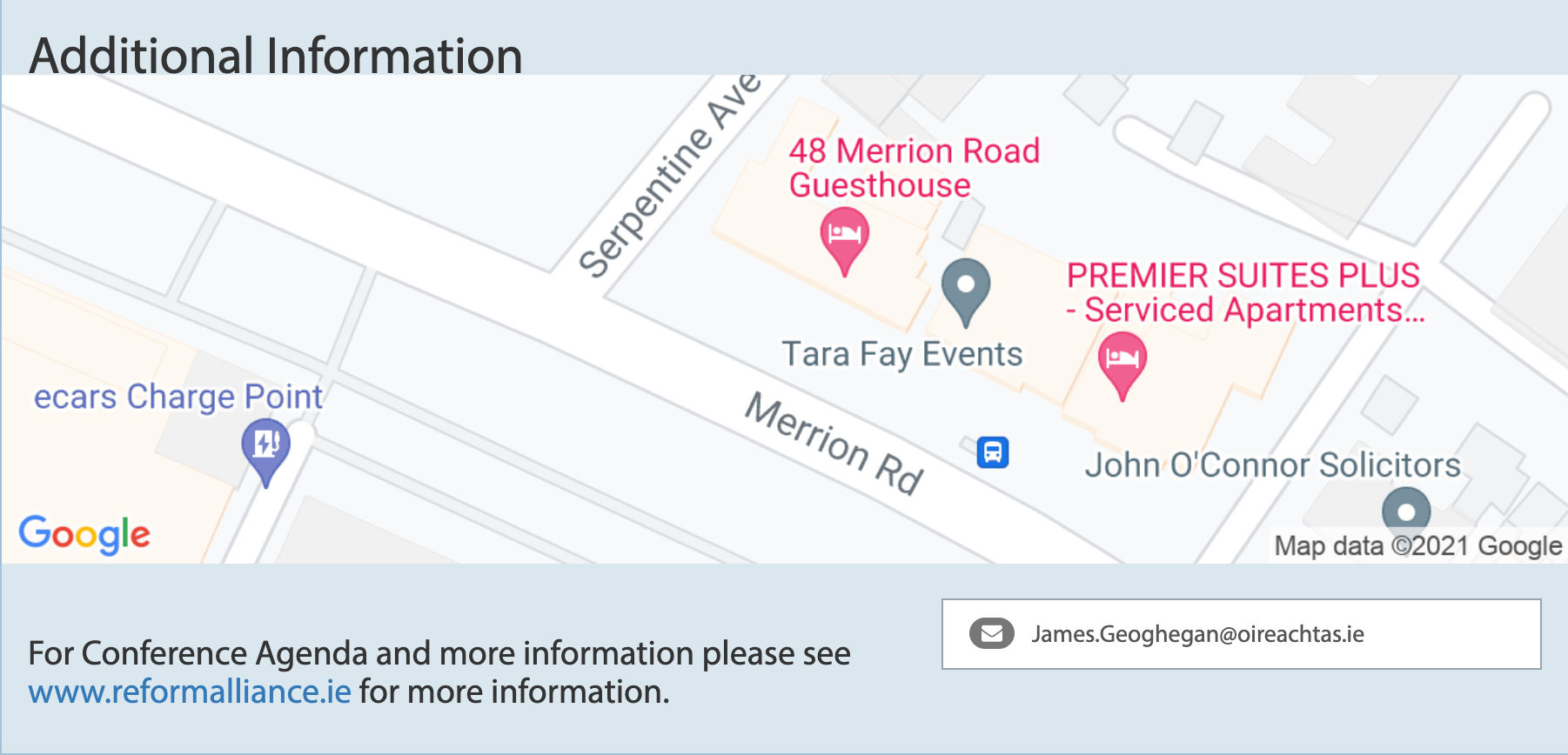 During the event, Lucinda Creighton addressed attendees, saying, "I hope, whether you agree with us or not on the decision that we took last summer to vote against the abortion legislation, I hope.." before being drowned out by a standing ovation.
According to current Irish Examiner political editor Daniel McConnell, who reported on the event for the Irish Independent, attendees at the event took a particular interest in the issue of abortion.  
"Two of the loudest cheers of the day came when the issue of abortion was raised. The decision of the group to oppose the legislation in the Dáil, leading to their expulsion from Fine Gael, certainly drew the applause of the crowd here at the RDS," he said.
McConnell further said that attending media focused their questions to Creighton abortion.
"It also dominated questions from the media shortly after the conference finished here at the RDS, and Lucinda Creighton was very strong defending their decision to oppose the legislation, saying that it was the government, not them, who broke their promises," said McConnell.
A report from The Journal noted that keynote speaker David McWilliams said, "I think I must be the only pro-choice liberal in the place." The event was also attended by Tom McGuirk and Olivia O'Leary, with the latter criticising how few women were in attendance.
Geoghegan wrote a number of policy papers for the Reform Alliance, according to documents posted online. These include a paper on "delivering a new political system", along with a paper for the Central Bank on capping mortgages relative to incomes.
James Geoghegan declined to comment.