Former climate action and environment minister Richard Bruton struck a deal with Energia to lease land he owns for a solar farm.
The farm isn't the Bruton dynasty's first move into solar power. Richard's brother, former Fine Gael taoiseach John, is facing opposition to a planned solar farm on land he owns in county Meath.
Energia began consulting with planning officials for the proposed farm in February 2021 – just seven months after Bruton left office as minister. The company submitted a planning application in November 2021 to Meath County Council.
Energia last month announced it's increasing home energy prices by 15 percent – which is estimated to cost its average customer almost €250 a year. Two Energia Group companies in Ireland last year recorded more than €44 million in profits, with one of these companies growing profits by 300 percent and the other by 45 percent.
Bruton is a member of the Dáil committee on environment and climate action and in a Dáil debate this March, days before Energia announced its price hike, Bruton rubbished the idea that either government or energy companies could offset increased costs.
"It would be nice to believe the government could absorb all the energy impact or that energy companies could be forced to absorb it but, in a small, open economy such as ours, that is fairyland talk," he said in the Dáil on 10 March.
Bruton while minister for the environment introduced a government scheme that aims to achieve 70 percent renewable electricity in Ireland by 2030. He also took part in a photo opportunity with Energia Group's CEO and lauded the company's claimed €3 billion investment in Ireland.
Now Energia is to lease land from Bruton for part of its proposed solar farm in Summerhill, county Meath if its planning application is successful.
Bruton's agreement to lease more than 100 acres to Energia
Bruton declared his ownership of the land in question in his 2022 Dáil register of interests. Land Registry records show that he and his brother, former Fine Gael taoiseach John Bruton, have owned the land together since 2011.
Energia Solar Holdings Ltd directors Garrett Donnellan, Peter Baillie and Conor Keane submitted a planning application for a 208-hectare solar farm across the Meath townlands of Culmullin, Woodtown and Arodstown on 22 November, 2021.
In its application for the farm, the company said that "the landowners have signed an option that provides for a long-term lease of the project subject to the granting of planning permission," indicating that the Brutons had come to an agreement with the company.
At 206 hectares, the solar farm would be one of the largest in Ireland. About one-quarter of the site is the Brutons' approximately 127-acre parcel in Woodtown, county Meath.
On 10 December, 2021 environmental group Eco Advocacy led by Kieran Cummins submitted a list of concerns about the farm to Meath County Council.
"We are most alarmed at the area of land, which is proposed to cover with these panels…  This is an outrageous abuse of finite agricultural land," read the group's submission, adding, "This proposal is incompatible with proper planning and sustainable development and should be declined."
The group also said that Energia's application failed to disclose how the site would be operational – a failure the group said was "intentional".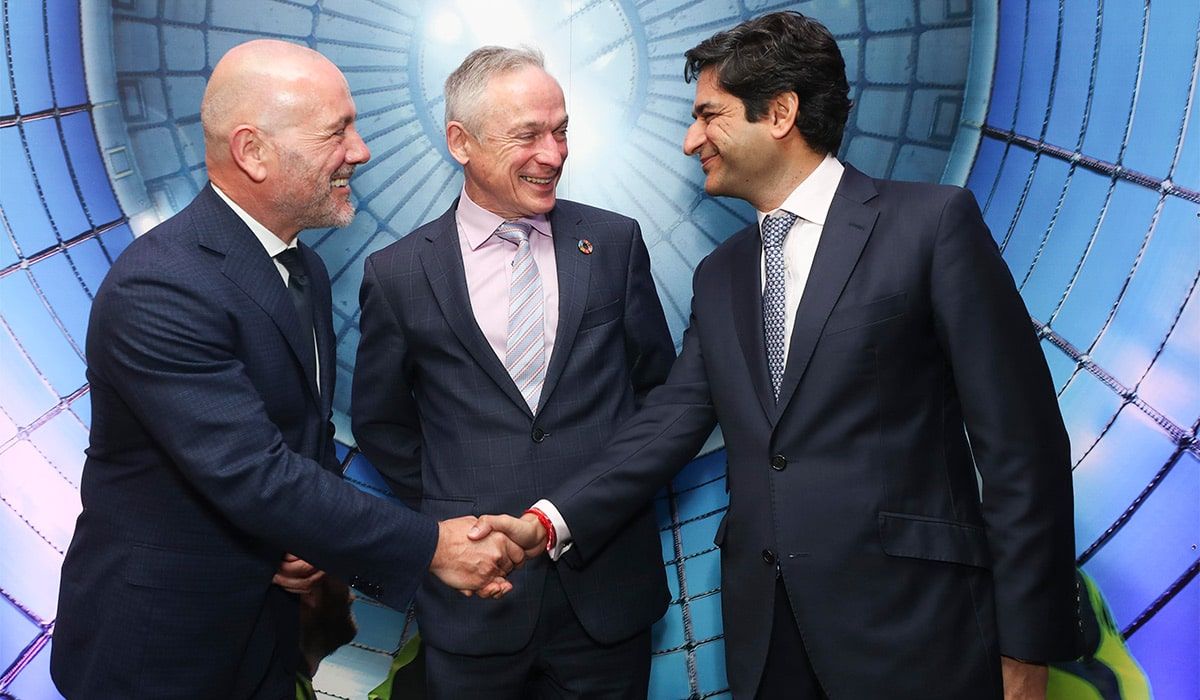 Bruton's announcement of Ireland's renewable energy scheme
The development isn't the Brutons' first foray into solar energy, with another proposed 227-acre farm on land owned by former Fine Gael Taoiseach John Bruton facing objections from a local residents' group, as well as Kieran Cummins's Eco Advocacy. Richard Bruton sold part of this land, which he had inherited, to his brother and cousin Tom Bruton.
The Ditch asked both Bruton and Energia when the mooted lease deal was agreed but neither would comment. EirGrid, which would've received an application from Energia for a grid connector to make the farm viable, also refused under the freedom of information act to release 19 documents related to the deal.
On foot of the application and associated submission, Meath County Council on 25 January of this year issued a request for further information from Energia. A final decision on whether to grant planning permission is expected in the coming months.
Bruton was minister for the environment under taoiseach Leo Varadkar from October 2018 to June 2020. In 2019 he introduced Ireland's Renewable Electricity Support Scheme, which would allow solar energy to be sold back into Ireland's national grid. Under the scheme, which aims to have Ireland move to 70 percent renewable electricity by 2030, energy providers are invited to bid for renewable electricity projects and be guaranteed a price for the power they generate.
Announcing the initiative in December of that year, Bruton said, "We are exiting from peat and coal to generate electricity and moving to clean, renewable sources of power, like wind and solar."
The July before that announcement Bruton was photographed with Energia Group CEO Ian Thom to announce what the company called its Positive Energy scheme, which it claimed would create up to 5,000 construction jobs and come with a total €3 billion investment.
"Energia's decision to build on its existing commitment and expand so significantly in Ireland shows the huge opportunity that is available to the sector in a decarbonised society," said Bruton at the time.
Bruton has spoken about solar energy in the Dáil on several occasions since he left his ministry. Under ethics legislation, TDs with a material interest in the subject matter of Dáil proceedings are required to make a declaration before speaking.