A Bord Pleanála (ABP) board member didn't declare her interest in a successful planning appeal. Her architecture company made the appeal on behalf of her next-door neighbour of 15 years.
ABP board member Michelle Fagan owns one-third of FKL Architects – the applicant's agent in this case. Though Fagan didn't vote on the appeal, she attended that day's board meeting and didn't declare her stake in the company. Just after the decision, FKL posted on its Instagram account expressing satisfaction with the result.
The Planning and Development Act 2000 compels board members to disclose any interest they have in the outcome of a planning appeal and record it in the minutes of the relevant meeting. Failure to do so is a criminal offence.

ABP board overruled inspector to allow extension proceed
Dublin City Council on 9 April, 2021 granted permission to Denise O'Grady and Shane Boyd for the construction of a glass roof extension to their two-storey mews in Rathmines, Dublin 6. O'Grady and Boyd had hired Fagan's FKL for the proposed development.
The pair's neighbour Kieran Desmond appealed the decision to ABP, arguing that permission should be refused. The ABP planning inspector assigned to the case agreed with Desmond.
"The proposed development because of its scale and height… would comprise an overbearing feature when viewed from the adjoining residential property… (it) would, therefore, seriously injure the residential amenity of adjoining property," said senior ABP inspector Hugh Mannion in his 3 August, 2021 report.
Fagan attended the meeting when the appeal came before the board. It was one of three cases voted on during the 17 August, 2021 meeting attended by Fagan, ABP chairperson Dave Walsh and recently departed board member Terry Prendergast. Fagan voted on two of these three cases.
The board minutes do not state however why she didn't vote on her neighbour's appeal. Under section 148 of the Planning and Development Act 2000, Fagan was required to disclose her interest whether she voted on this appeal or not.
ABP chairperson Walsh and Prendergast overruled ABP's inspector and voted to let the extension proceed.
"In deciding not to accept the inspector's recommendation to refuse permission, the board considered the scale and height... to be acceptable in terms of the residential and visual amenities of the area, did not agree that the proposal would comprise an overbearing feature when viewed from the adjoining residential property," the board determined in its direction signed by Prendergast on 18 August, 2021.
Just more than a week later FKL posted on its Instagram account a photo impression of the development. "We are delighted to have received planning for a glass class clad roof extension to our residential terrace," read the 27 August, 2021 post.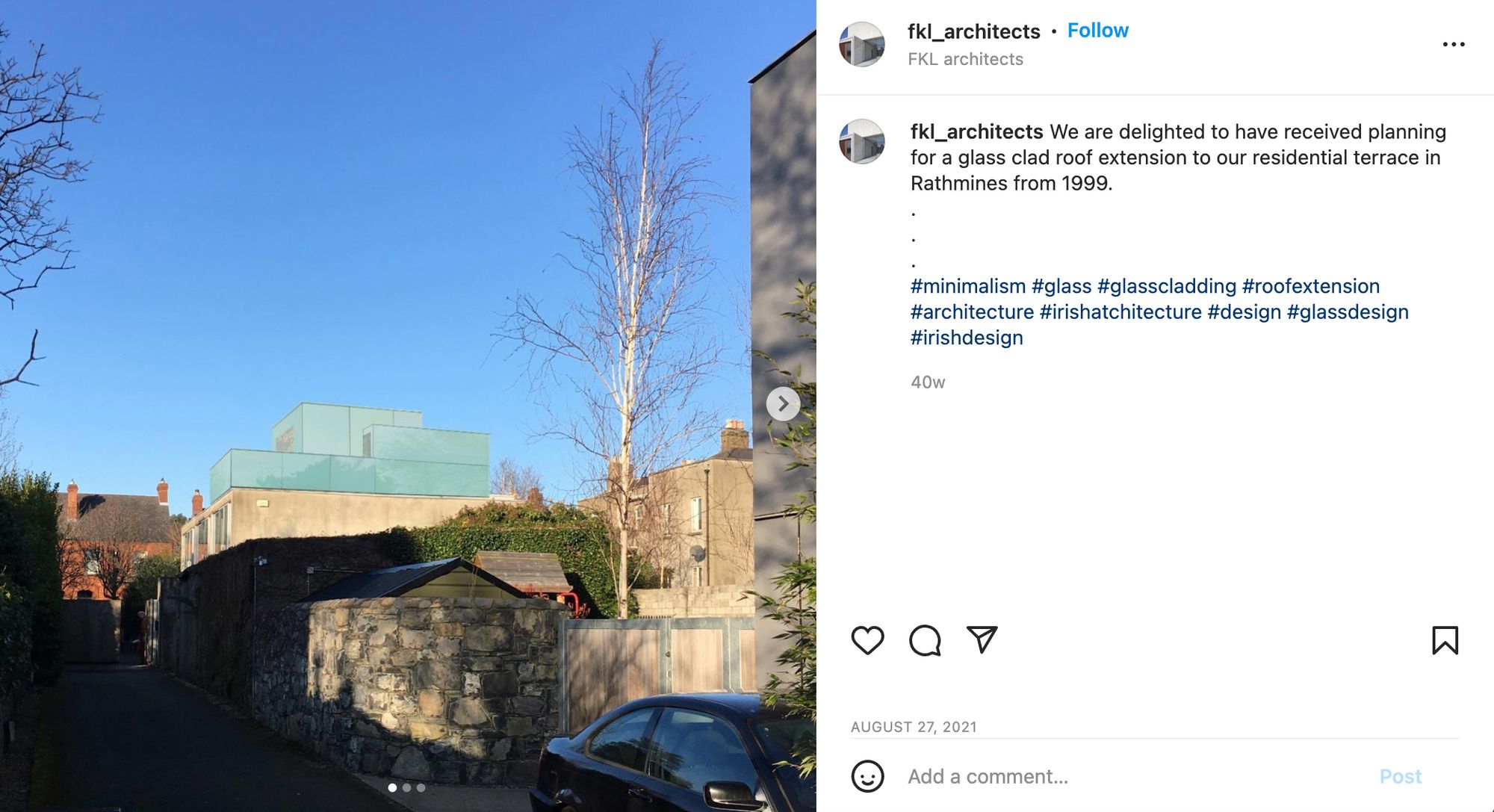 Though FKL's main office is on Wexford Street, Dublin 2, the company has another base in Fagan's Rathmines home. According to the company's website, Fagan is "currently on secondment to An Bord Pleanála following her nomination to the board by minister Eoghan Murphy".
Fagan's husband owns a one-third share in the company, to go along with Fagan's one-third, while a business partner owns the remainder.
The Ditch recently reported that Fagan approved planning permission for a development brought by another FKL client. Fagan has also voted on planning applications in her Rathmines neighbourhood.
ABP chairperson Walsh would not comment when asked why the conflict was not declared at the meeting nor would he explain his decision to overrule his own inspector.
Fagan declined to comment.