A Fianna Fáil minister of state appointed a constituency ally and party diehard, who has claimed he'll "kick blueshirts any time", to a €400-a-meeting-plus-expenses state position without interview.
Junior minister at the Department of Justice James Browne personally appointed Gorey man Paul Walsh – who claims to be a Fianna Fáil member – to the role after the department received more than 30 applications.
Though Walsh now sits on a state firearms committee, which produces reports that deal with firearm safety, video footage shows him saying, "Safety nets my hole! Not in Ireland," before operating a chainsaw while standing in the bucket of a digger suspended in the air.
Walsh has also operated a shooting range in his hometown, with pictures from the range showing clients posing with firearms pointed in the air and with their fingers on the triggers.
Walsh is a Fianna Fáil loyalist who has allowed his land be used to advertise party election candidates and who has called members of the state's other main party of government "West Brit Fine Gael arse lickers".
'I then selected the candidates'
Minister of state at the Department of Justice James Browne on 31 March, 2022 announced the establishment of this department's Firearms Expert Committee.
The Department of Justice at the time of the launch released a statement that said the committee would comprise one chairperson and two ordinary members who would report to Browne in an advisory capacity.
Browne said at the launch that the department had the chance to "review and modernise legislation around firearms and explosives," adding, "The safety of the public is paramount to this."
Paul Walsh, who's from the same Wexford constituency as Browne and who described himself as a Fianna Fáil member in a June 2020 Facebook post, was one of the two ordinary members personally appointed by Browne.
Responding to a July 2022 parliamentary question, Browne said that officials in the Department of Justice sought expressions of interest for the role and received 34 applications. Officials then produced a shortlist for Browne.
"Given the number of well-qualified applicants, I requested that shortlists of candidates be prepared for final consideration. These shortlists were prepared by assessing applications against the suitability indicators listed in the expression of interest document.
Browne then said that he appointed the two members without interviewing them.
"After careful consideration, I then selected the candidates for appointment from these shortlists," he said.
Explaining his choice of Walsh, Browne referred to his "extensive experience in different types of shooting". Committee members are paid €5,985 a year, which works out at roughly €400 a meeting, along with expenses.
A keen hunter and registered firearms dealer, Walsh has also operated a shooting range.
The Ditch has obtained more than a dozen photographs that show clients at the Gorey-based range posing with handguns and rifles pointed in dangerous directions, some loaded with magazines.
Under firearms legislation authorised shooting range owners are required to adhere to strict safety regulations.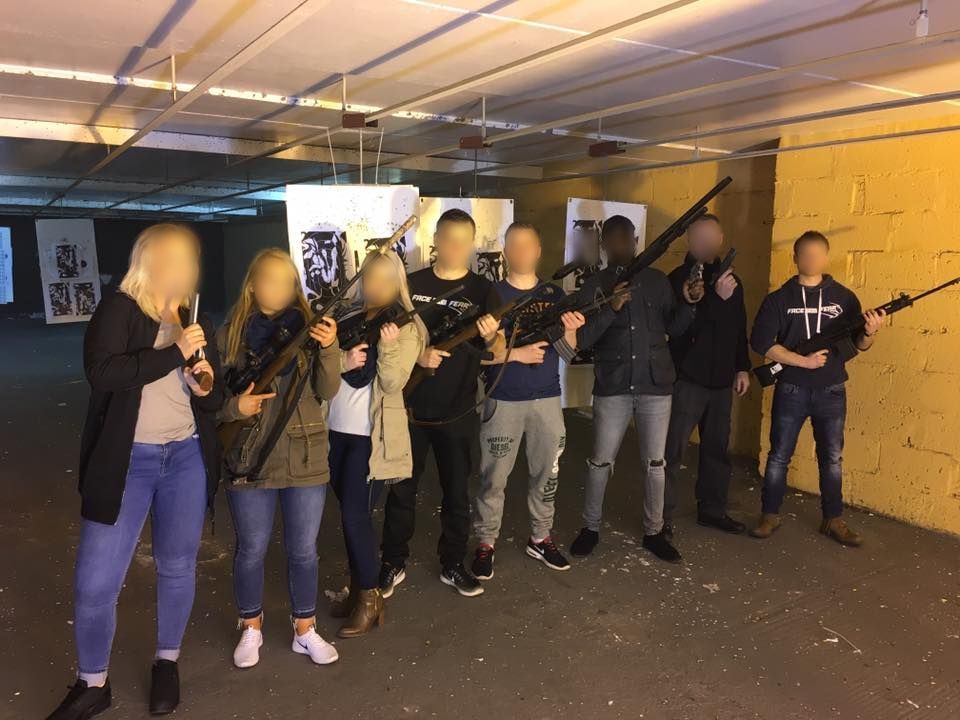 Walsh has questioned the need for safety measures in other areas.
Video footage of Walsh shows him giving the middle finger and addressing someone he calls "cunty" before getting into the bucket of a digger while holding a chainsaw. He says, "Safety nets my hole! Not in Ireland," before raising a fist in the air. The digger lifts Walsh – standing in the bucket and dressed in walking shoes, shorts, a Leinster rugby polo shirt and sunglasses – into the air while giving the finger.
"Never mind sticking the fingers up – hold on to something," a voice off camera tells him.
While roughly three metres off the ground, Walsh begins operating the chainsaw, taking it to a tree, working on it for about ten seconds before turning back to the camera to again give the middle finger, the chainsaw still on. He finishes up about 30 seconds later, gives the camera finger and says, "That's the way you do it, cunty!'
'I'll kick blueshirts any time and any place'
In November 2019, before the 2020 Irish general election, Walsh posted a picture of an election poster for Wexford Fianna Fáil candidate Malcolm Byrne on his garden fence. "Bejaysus the garden fence never looked so well," he wrote, tagging Byrne in the post.
Elsewhere he criticised former Fine Gael Monaghan councillor Hugh McElvaney, who featured in an episode of RTÉ Investigates and was later sanctioned by SIPO, for asking to be paid in sterling for consultancy work for a fake wind farm. "At least Hugh McElvaney stayed true to his West Brit Fine Gael roots. He wanted sterling and bags of it. And a lovely picture of him and the gombeen from Mayo together. Up the blue shirts," he wrote.
He was happy that McElvaney's Fianna Fáil counterpart asked to be paid in euro. "At least the Fianna Fáil fella was going to get euros and support our economy some way but not the auld blue shirt – gimme sterling. Just goes to show how indoctrinated the West Brit Fine Gael arse lickers (are – they ) still think they're on the queen's hind tit."
In a debate five years ago with Facebook friends, Walsh wrote, "I'll kick blueshirts any time and any place."
When asked by The Ditch if he thinks it was appropriate that he was appointed to the Firearms Expert Committee, Walsh said, "Okay. I don't think you're being very nice with your tone of questions, okay?" When asked about his comments on Fine Gael and its members he said, "Okay. Good luck."
A Department of Justice spokesperson meanwhile said, "On 31 March, 2022, expressions of interest were sought from suitably qualified candidates for appointment to the Firearms Expert Committee. This call was published on the website of the Department of Justice and shared with various stakeholder organisations.  
"The call for expressions of interest was administered by officials in the Department of Justice, who also acted as the Secretariat to the Committee. In total, 14 applications were received for the position of chairperson and 34 for the positions of ordinary member.  
"Given the number of well-qualified applicants, a shortlist of candidates was prepared for final consideration by the minister. These shortlists were prepared by assessing applications against the suitability indicators listed in the expression of interest document. After careful consideration, the minister then selected the candidates for appointment from these shortlists."