An Irish company has supplied parts for armoured vehicles deployed in Russia's invasion of Ukraine.
Timoney Technology manufactured these parts as part of a deal with a company linked to a personal friend of Vladimir Putin. Though Timoney announced the deal in 2012, it has been reported that its work on the vehicles has been disrupted by European sanctions.
The Irish state took a 49 percent stake – which it no longer holds – in Timoney Technology shortly after it was founded in 1974. The Navan-based company received more than €1 million in state funding in 2011 and it took part in an Enterprise Ireland trade mission after it agreed its deal to supply the parts used in Russian military vehicles.
The late Seamus Timoney founded Timoney Technology in the Meath Gaeltacht in 1974. The Irish state at the time invested £400,000 (€3.7 million in today's money) in the company through a forebear of Údarás na Gaeltachta. Údarás na Gaeltachta itself granted Timoney Technology €1.5 million in 2011, according to company accounts. A year after this grant, Timoney announced its deal with a partly Russian state-owned company that supplies the country's military.
The company's headquarters is at an IDA facility in Johnstown, Navan. It's still controlled by members of the Timoney family and its previous directors include the late Tom Hardiman, a former director-general of RTÉ.
Timoney's deal with arms company linked to oligarch
Timoney Technology in April 2012 announced a deal with Kamaz, a Russian automotive company 49 percent-owned by Rostec, a Russian state-owned arms manufacturer. Sergei Roldugin, a concert cellist and personal friend of Vladimir Putin, is the ultimate beneficial owner of 24 percent of Rostec, according to documents released in the Panama Papers.
Under the terms of this deal, Timoney Technology produced suspension systems, axles and transmissions for Kamaz's armoured vehicles. Kamaz, itself partly Russian state-owned, supplied these vehicles to the Russian military.
Early video footage of the Russian invasion shows armoured 4x4s built with Timoney Technology parts on the ground in Ukraine. The vehicles in the footage, the KamAZ-53949, were operated by both Chechen soldiers and members of the Russian National Guard.
Another armoured Kamaz vehicle, the KamAZ-63968, has been photographed in the under-siege city of Mariupol in Ukraine. This model has featured in Russian military parades as recently as April 2021.
At a rehearsal for the 2021 Victory Day Parade in Moscow, the KamAZ-63968 was photographed at the Russian military's Alabino training facility. Timoney's name is visible on the vehicle's wheels.  
When Timoney Technology and Kamaz announced their deal, then Timoney CEO Shane O'Neill said it was "a further demonstration of Timoney's status in this sector globally", adding, "Timoney is proud to be associated with the great Kamaz Company which has recognized Timoney's capability in the field."
As part of the contract, Timoney Technology was to contribute parts for the Russian military's Bumerang tank-development programme. A 2019 Swedish Defence Research Agency report however suggested that the scheme, as well as Timoney's involvement, had been obstructed by European sanctions.
A year after Timoney Technology announced the deal with Kamaz, the Meath company took part in a February, 2013 Enterprise Ireland trade mission to Stuttgart, Germany with former Labour Party minister and current TD Seán Sherlock.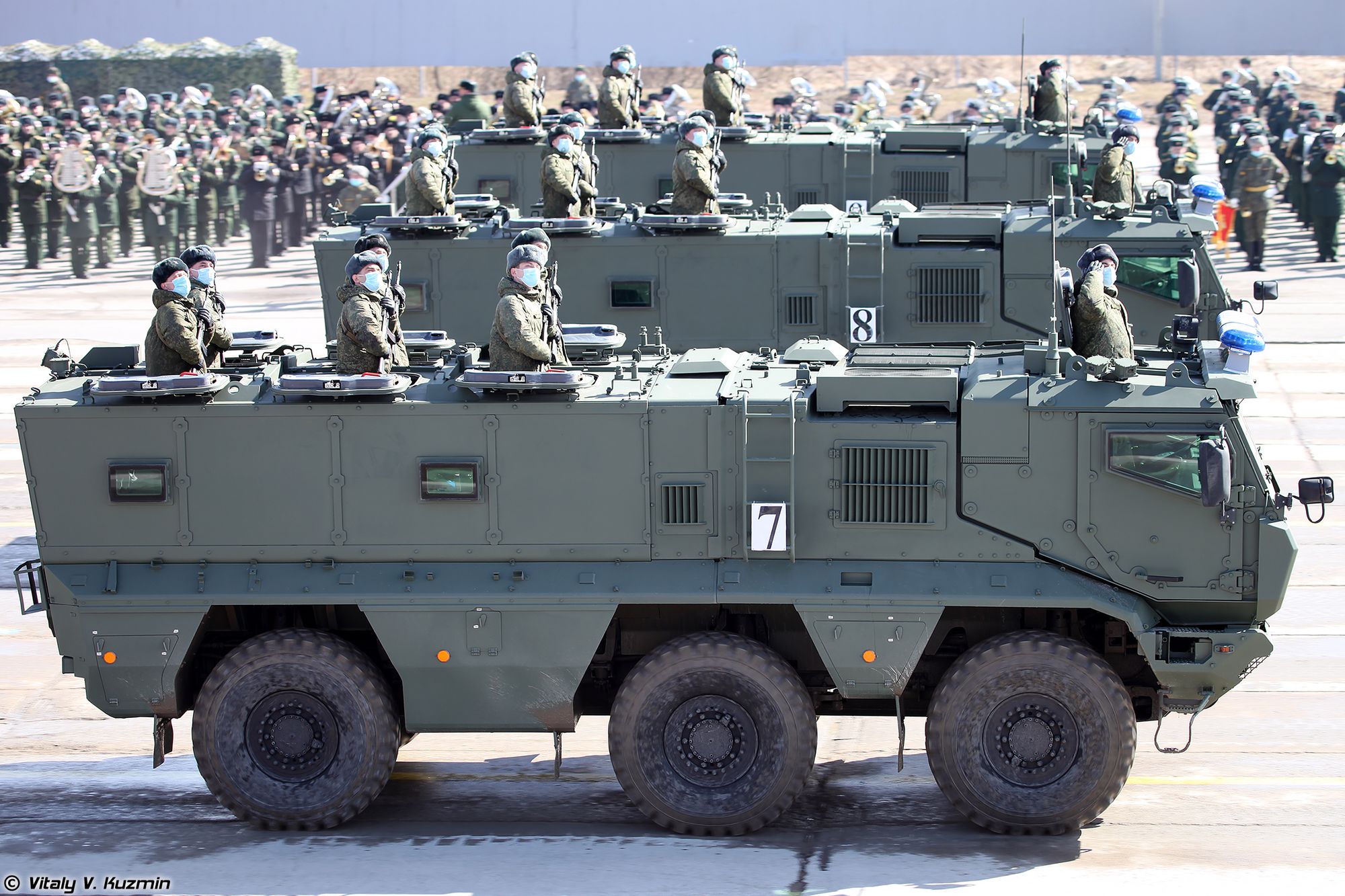 'One of the world's leading companies': Fianna Fáil senator
In 2016 and 2017, Fianna Fáil senator Shane Cassells, then a TD for the Meath West constituency, twice spoke approvingly of Timoney Technology in Dáil Éireann, calling the company "one of the world's leading companies in designing and developing armoured vehicles".
"Two ministers, deputies Coveney and Bruton, have visited the company's plant in the past. This company has supplied the Australian, Singaporean, Polish and Turkish armies, as well as the US Marine Corps. Despite the efforts of Enterprise Ireland, at the behest of the ministers, there has been no active engagement whatsoever with the industry in Ireland," said Cassells during a December 2016 debate in the Dáil.
Cassells, who declined to comment to The Ditch, has recently on Twitter commended Fifa for banning Russia from the 2022 World Cup and also tweeted a video of Royal Irish Academy of Music students playing the Ukrainian national anthem at Leinster House.
There have long been concerns in Ireland about Timoney Technology's activity in the international arms industry. In 1996 the IDA had to defend Timoney, along with four other companies that it had funded with public money, after a Timoney family company was named in an arms trade report.
"These are companies which happen to make products which suit military buyers, but their products are manufactured for the open market. There is nothing wrong with it," said an IDA spokesperson at the time. Timoney's then CEO, Eanna Timoney, said his company's business was entirely legitimate, with around 20 percent of its work dedicated to military applications – "mostly for western democracies", as an Irish Times report put it.
Despite these arguments, opposition TDs said the report that spurred this controversy called Ireland's neutrality into question.
Timoney Technology, Fianna Fáil, the IDA and Enterprise Ireland declined to comment.