Up to 24 Ukrainian refugees are being housed in an illegally converted basement office in Donegal. They're given €30 Lidl vouchers each for their weekly food.
Donegal-based McGettigan Construction, which went first into Nama and later into receivership, is housing refugees in the basement of an apartment complex in Letterkenny. The conversion of part of the basement to an office was unlawful and Donegal County Council has refused one of the company directors retention permission for it.
Independent TD for Donegal Thomas Pringle said, "This seems to be how all the 'accommodation providers' are operating – it is simply about making money for them."
Two couples to a room
The Orchard Crescent apartment complex is just off the main street in Letterkenny, county Donegal. McGettigan Construction Ltd built the complex before first having €24.5 million in loans transferred to Nama in 2010 and later going into receivership in 2015. In March 2021 the company was named as a tax defaulter with an unpaid bill of €594,180.
Part of the basement of the building was illegally converted to an office for the company. Director Edward McGettigan had to apply for retention permission for the office from Donegal County Council. In April 2016 the council ruled against him.
A Gibraltar-based company called LK Enterprises Ltd now owns the unit since McGettigan Construction, just a month before going into liquidation, transferred ownership to it in May 2015.
A sign for McGettigan Construction Ltd is fixed to the front wall outside with a direction telling visitors to use the side entrance. This entrance doesn't however seem to be in operation, with curtains drawn against its glass surface.
Outside the rear entrance to the office, bunk beds are pushed against a window overlooking a car park. White fibre ceiling tiles run overhead through a short hallway leading to what looks like was once a canteen but is now a communal kitchen with storage and washing facilities. Farther down the hall an ironing board and iron stands in an alcove.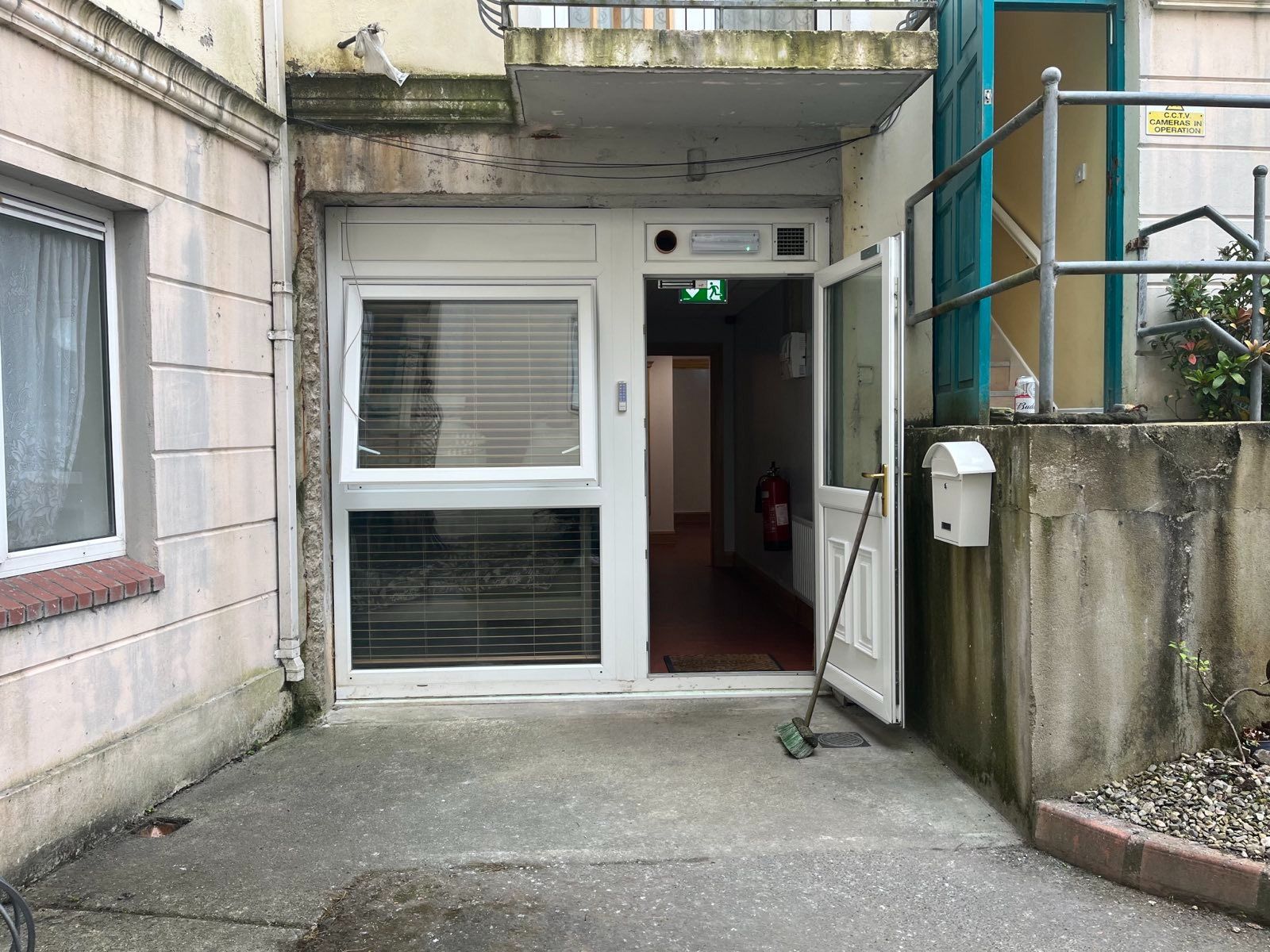 Andrii Shmatko, 27, from Odessa in Ukraine, is living in the converted basement office. Shmatko said that he and his partner are living together in the same room with another couple.
Though grateful for being able to come to Ireland, he said of his accommodation, "It's not big, but I have no choice."
There are 24 people living in this basement, said Shmatko, divided between seven rooms, all of which are occupied. One room houses a mother and son and a mother and daughter; another houses a family of four. They have one living room between them.
Shmatko is looking for work and he and his partner are eager to move out. Though keen to get across his gratitude for being in Ireland – "I have a home, it's good. I'm from Ukraine and I need to do something for my life" – he also said conditions aren't ideal in Letterkenny. He and his partner's main concern with the accommodation is having to share with another couple.
Until they can move out Shmatko and his partner each receive €30 for their weekly shop.
"Once a week we get vouchers for the supermarket. For one person we get €30 for a week," he said, explaining these vouchers are redeemable in the local Lidl.
Shmatko said "Brendan" distributes these cards and is available to tenants in the unit to assist with breakages or other issues with the accommodation.
Edward McGettigan – who in his 2016 planning application claimed ownership of the property through an entity called LKE Developments – owned 52 percent of McGettigan Construction with Declan and Brendan McGettigan each owning 24 percent.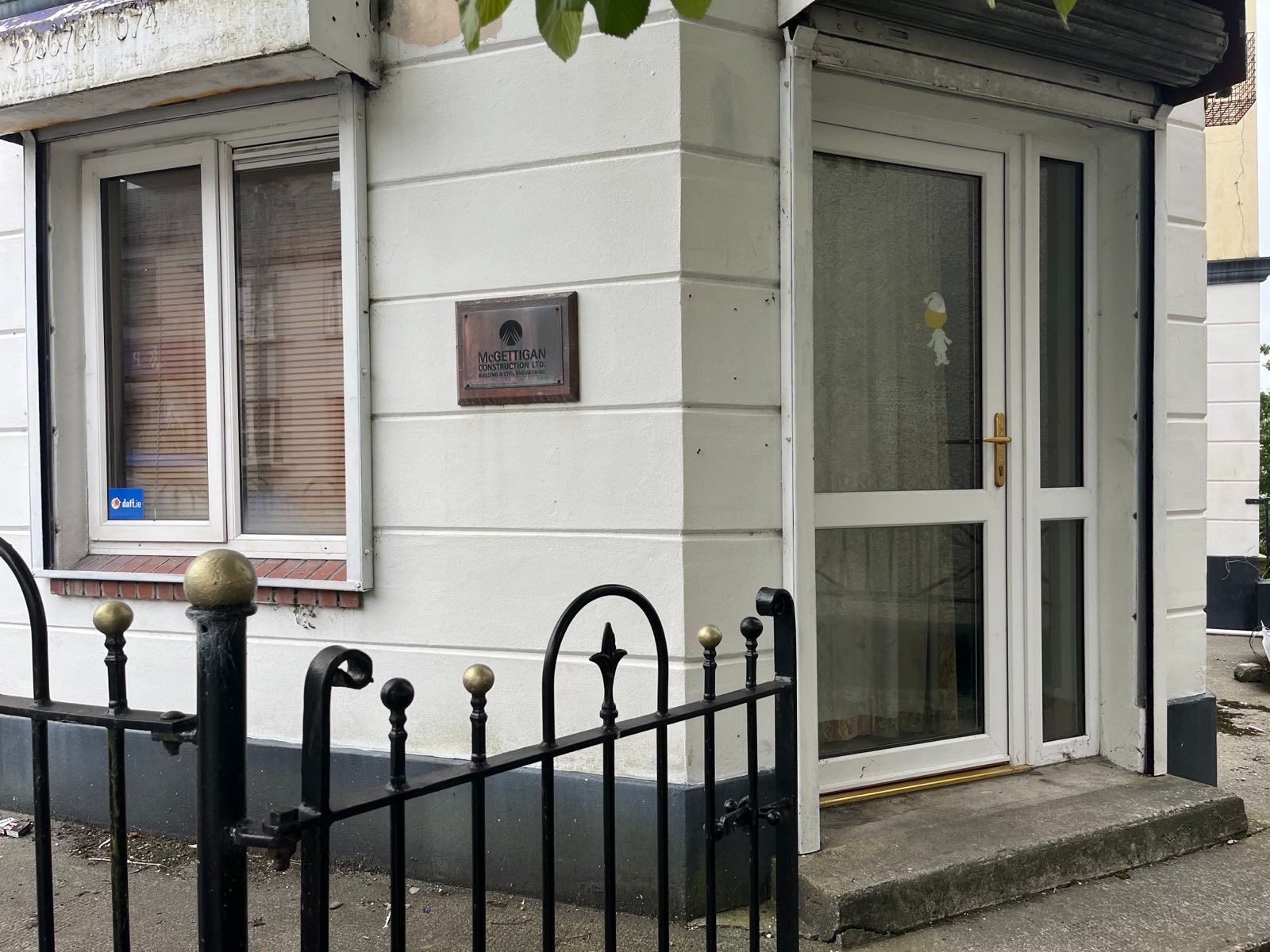 'Only in it for the money'
Government in July sought expressions of interest from potential accommodation providers for Ukrainian refugees. Under the terms of this government call, providers were to offer a "minimum of 50 bed spaces". Though Shmatko and others in Letterkenny are being housed four to a room, government guidelines called for "twin or treble" rooms.
Accommodation providers could offer catered or self-catered residences. Should catered residences be offered, tenants should receive "three full meals per day with dietary needs catered for" along with an "availability of snacks and water throughout the day".  The costs for this food should be taken out of government payments to accommodation providers.
It can be lucrative for providers.
Under the terms of the government scheme, owners of guesthouses and B&Bs – or in this case a converted basement office – are paid €60-75 per night for the first adult refugee housed, with an extra €35-45 for each additional adult. They're paid €35 per night for each child aged 12-18 and €20 for each child under 12.
Independent TD Thomas Pringle criticised both accommodation providers and government.
"The situation of the converted basement in Letterkenny is particularly bad and seems to be about making money only. Situations like this turn the population against refugees when it is not them that are causing the problem but unscrupulous providers who are only in it for the money.
"The department unfortunately seems to be willing to go along with this as well in their desperation to get places for the Ukrainians to stay. That is wrong and only makes the job of integration harder," he said.
McGettigan Construction couldn't be reached for comment.